DAVE WHITE TRICKER
In 1971, Dave White recorded a solo album for Bell Records under his family name Dave White Tricker.
He co-produced the album with Brooks Arthur and utilized The Crystal Mansion as the back-up band with string and horn arrangements by Al Gorgoni.He recruited his old group, Danny and the Juniors to sing back-up on one of the tracks. The album was recorded at Brooks Arthur's 914 studio in Blauvelt, New York. Dave's
co-publisher Artie Kaplan contracted the musicians and played sax on the album. He and his wife Sharon graciously provided accomodations for him at their home nearby. Dave assembled a band he called The Tricker Troupe to promote the album, play gigs and supplement his writer's income. After a few engagements they became the house band for two years at the Cedarcrest in South Jersey. In 1973, Dave trekked to India on a spiritual pilgrimage with Guru Maharaji and changed the name of the band to Divine Light. Shortly after that the band disbanded and Dave White Tricker became Dave White again.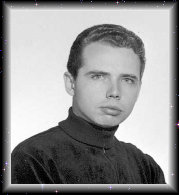 Click on buy now button to purchase
Dave White Tricker music
Rock and Roll Is Here To Stay